When Victorians got flowers, they understood that they were getting a secret message to be unveiled, a flower puzzle if you will. Back then, it was understood that every flower was a message to be decoded. Flowers as coded messages!?
Yes. We're here bringing that back.
We are the only company that uses the lost language of flowers in our every design. This means, in addition to creating something beautiful for you, we design to intentionally add fun and connection to your world. We are able to support you in this way because our customer service is truly personal. We always listen closely before we work our flower magic.
How it Works
There are many ways to use the language of flowers to create something special.
Choose the way that works best for you:
1. Have a conversation with us about your relationship or event. We'll listen carefully and translate your love/gratitude into the language of flowers.
2. Choose a vessel from our Flower Shop and scroll through the drop down menu to pick the perfect message. Then just add it to the cart!
3. Use our database to translate a message into flowers yourself.
How to Find the Meaning of Any Flower
We've included every meaning we could find for every flora we could find in the Flower Meaning database so that YOU can choose which meaning to use depending on the message you are trying to create.
To identify each meaning, we've numbered them. "Cure for a broken heart" is Yarrow's second meaning, for instance. If you want to use it, you'd write "Yarrow2".
To create a more complex meaning, add other flora. For insance, to make that message "Friendship: The Cure for a Broken Heart" you'd just have to add the meaning "friendship". "Friendship" is Rose's 9th listed meaning, so you could write: ROSE9 + YARROW2
A Word from the Founder
I believe that, coupled with the language of flowers, flora can become a beautiful way to connect people while bringing more fun into their daily lives. With The Bloom Equation, I want to create experiences that are nothing short of magical.
And I want to create them daily. For everyone I love and people that I will never even meet.
That's how this company got started-- I had to do it at least for my loved ones. And then I had to make a website, so I could reach people I didn't know. And then I had to go on Kickstarter to push The Bloom Equation to become the flourishing, world-touching thing of beauty that I knew it could be.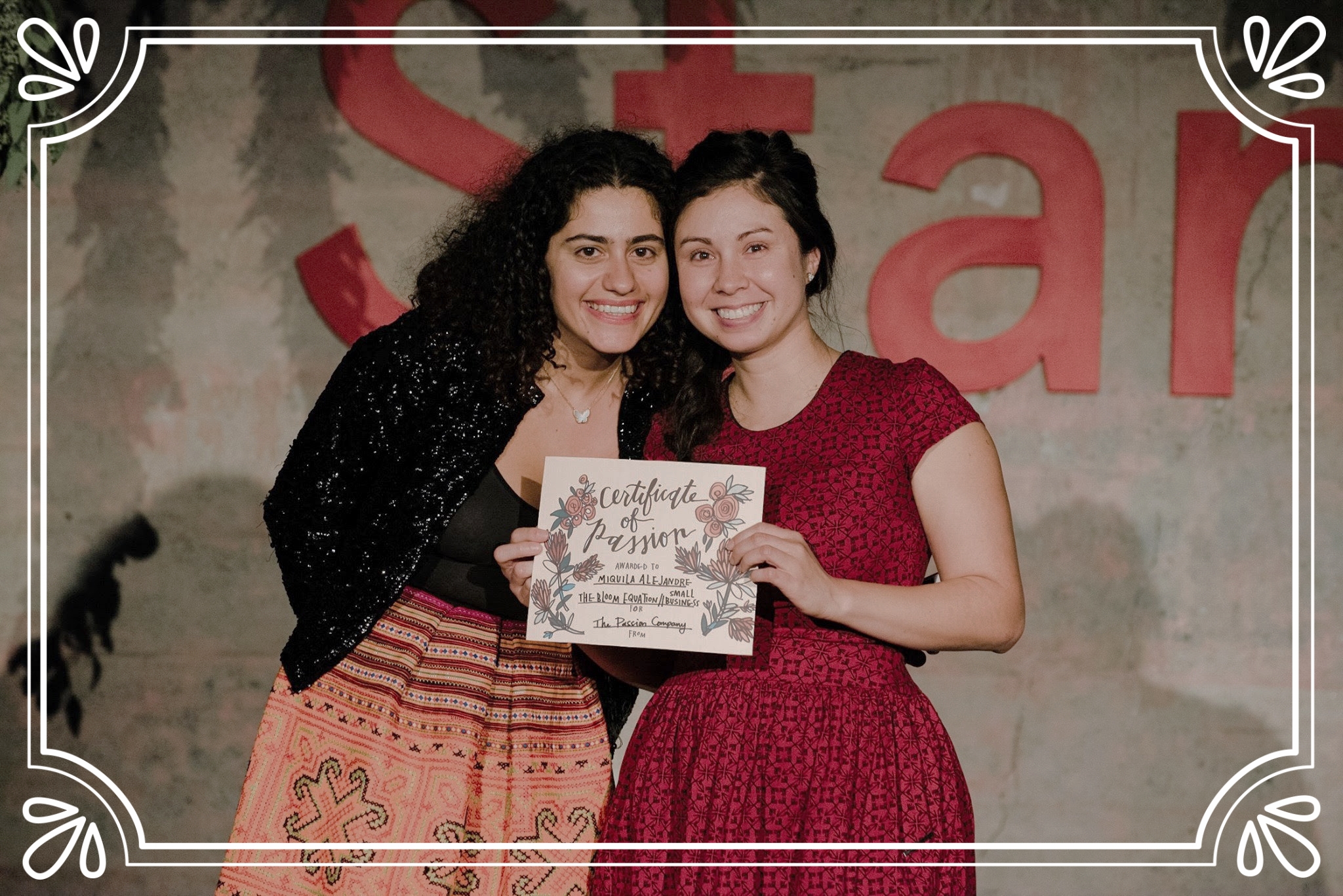 Presenting our ideas to be judged before a panel and then an entire audience gave us funding to push forward & the feedback we needed to serve our customers best.
And now, here are. With a Passion Co. Small Business Award, Kickstarter's "Project We Love" mark of distinction, and successful crowdfunding at 144%, The Bloom Equation has shown that there is a place in the world for our kind of magic.
With your help, The Bloom Equation will continue to bring fun and connection into more and more lives using the lost language of flowers.
Warmly,
Miquila (Mika)
Photos Courtesy of : @Holly_bd, Ellen Wildhagen Photography, SLOtography, Carlotta Saracco and Maurice Seaty